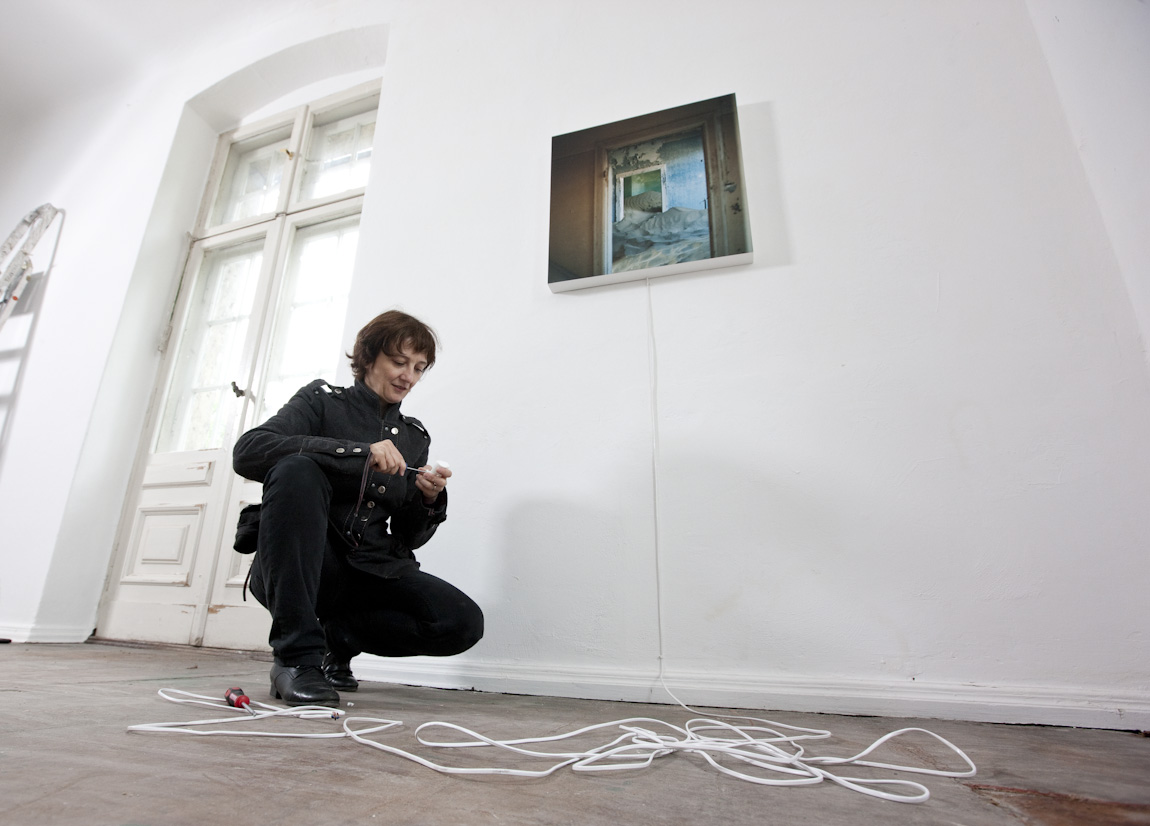 In reflecting about Atlantis and the theme of Hidden Histories – Imagined Identities, I have chosen to think about how metaphorically we create feelings that constitute a link between the past, present and future. In choosing light boxes, I have sought to create a sense of evocative illumination and perception through time. Hence though the works are untitled each in their different ways suggests distinctive notions of temporality. Images of sediment as sand and engulfing space, the sand-blocked open door, point to the loss and destruction of Atlantis. Like a palimpsest the images continually suggest successive time-layered spaces, at and in their way echoing the residual historical architectural situation of Schloss Marquardt.
At the same time I am interested in inside and outside (present continuous), as a means of extending perception in an open or immediate moment in time. Images of outside-in and inside-out, shown by the enclosed walled space with a hoop and window are used to present this idea. The anonymous billboard shot in oblique angle from the back suggests to me the future, issues of future construction, and in this case a sort of hidden visible where the advertising message of the future has not yet been written.
As a counterpoint of the historical past, I have included in a second room photographic light box landscape details from the Italian Quattrocento paintings of Govanni di Paolo (that is pre-landscape genre), and given to them a personal autonomy they did not have previously. The landscapes are imaginary just as we might imagine the world of Atlantis. In Plato's dialogue Critias's fantastical description laid great emphasis on describing the imagined landscape of the lost Atlantis. I feel it integrates well with the lost narrative and landscape history of Schloss Marquardt, which is now being revisited and seen through contemporary eyes.
Elisa Sighicelli and Mark Gisbourne in shared conversation
Photography can be roughly translated as "drawing with light" – a connotation that Elisa Sighicelli takes literally. For her, light is not only the medium of the photographic image, but also the thematic focus of her work. She takes a documentary approach to investigating its forms of appearance as natural or artificial sources of light – as reflections on metal surfaces, as candlelight, or as fluorescent rays from neon lights. Using her own technique, she has succeeded in capturing the scientific magic of photons in all their fascinating transitoriness and inconceivably fragility. In these works, she transforms an architecture devoid of people into graphic art. Her works create a lyrical  monograph on light located between objective documentation and abstract ideas. In a final logical step, the images of light are presented in light boxes, taking them full circle – in the exhibition context, the depiction of light is reanimated.
Elisa Sighicelli is showing photographic works in two separate rooms upstairs. In their transparency and luminosity, these works seem to resemble "light drawings". In nine different works, she evokes the past and the future. On the one hand, there are photographs of Italian Master paintings with the figural removed and only showing the landscapes transformed in a light box; on the other, there are futuristic architectures, contrasting dramatically in their clarity and austerity with the dreamy fictional landscapes which may seem to reflect the landscapes of Atlantis in the viewers' imagination.
Selected Solo Exhibitions
2010 The Party Is Over, Gagosian Gallery, New York, USA
2009 Seomi & Tuus Gallery, Seoul, South Korea
2007 GAM, Torin, Italy
2006 The River Suite, Gagosian Gallery, London, UK
2006 Phi, Giò Marconi Gallery, Milan, Italy
Selected GRoup Exhibitions
2009 Italian Pavillon, 53rd Venice Biennial, Venice, Italy
2008 Focus on Contemporary Italian Art, MAMbo, Bologna, Italy
2005 Agony and the Ecstasy, FACT, Foundation for Art and Creative Technology, Liverpool, UK
2005 The Mind is a Horse Part 2, Bloomberg Space, London, UK
2003 Liquid Sea, Museum of Contemporary Art, Sydney, Australia
[gallery:667]