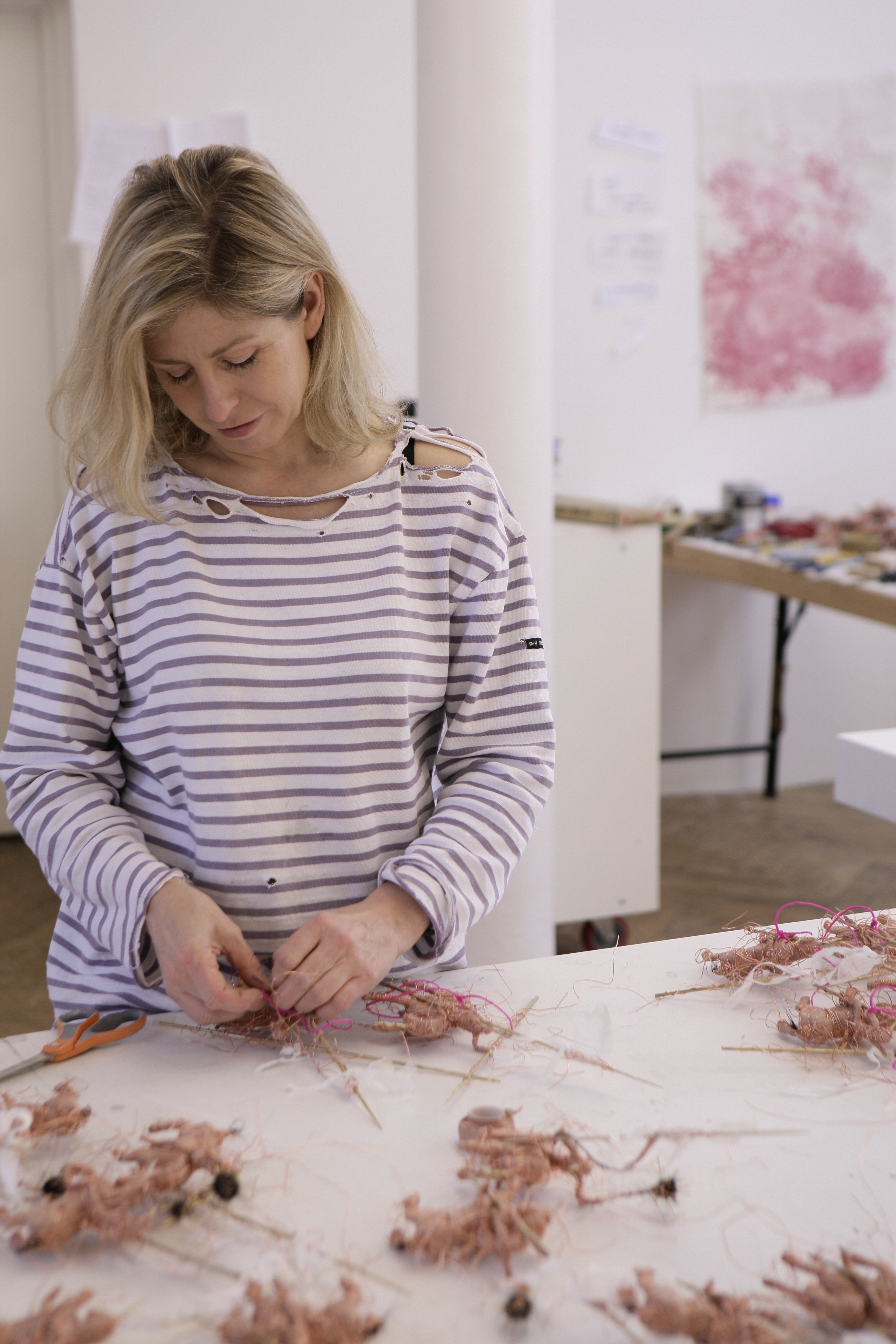 "The house speaks to me of individual lives and loves,
in a state of pre-apocalyptic ecstasy.
Before their humanity became nullified by the dulling sour sweep of conflict.
Faded grandeur, overlaid with a dark confusion of spirit.
Memories best left forgotten, secrets best left buried.
As they mordantly worry the surface of our present.
In the field outside the Unicorns charge dreamily through the sweet air.
Their riders devoid of self pity as they drive their bodies into the morass.
Not permitting the reflective mind to wander with its memories towards grief.
Focussing on keeping the precious carcass alive and strong
enough to carry the soul out of the living death of war.
To tell the story which it seems humanity does not to want to hear.
I imagine in the future the imprint of the past will not be erasable.
Often my work is resolved in its last moment by sweeping an anxious despairing
hand of paint across its surface, in an attempt to finalise and arrest the progress of its growth.
And ineffectually hide my thoughts."
Cathy de Monchaux's works frequently juxtapose soft and hard materials to heighten their contrasting haptic qualities. While her earlier works, described as "tailormade fetishism", combined warm red velvet and cold metal spikes, screws and clips to evoke an in-your-face eroticism, her present works are subtler and often covered with white paint which, like a deposit or nostalgia, lies across the entire work. The eye-level wall-friezes seem delicate, dreamy, and fragile. When the beholder looks more closely, though, s/he discovers these are ornamentally constructed miniature battle scenes or outsized, scarred wounds, so aesthetically and playfully presented that the violence only gradually shimmers through. Injuries and pain are packed in charmingly light sugar dioramas. Yet these collages, with their complexity and intricate playfulness, leave a feeling of sadness and melancholy.
At Rohkunstbau, Cathy de Monchaux is showing four sculptural installations. Some are mounted behind glass to protect the environment from the toxicity she sees residing in the objects, or else they are covered in white pigments. Her battle scene "sweetly the air flew overhead – battle with unicorns no 9" reflects her loathing of war and violence; at the same time, it references Atlantis as a martial nation. The artist has darkened the windowpanes of one room with white paint, and opened wide the windows in the other to offer the beholder entirely new vistas of the park.
Selected Solo Exhibitions
2005 New Work, Charing X Gallery, London, UK
2000 Directions, Hirshhorn Museum and Sculpture Garden, Washington D.C., USA
2000 Albright Knox Art Gallery, Buffalo, New York, USA
1999 Sean Kelly Gallery, New York, USA
1999 Mitchell-Innes and Nash Gallery, New York, USA
1997 Galerie Rudolfinum, Prague, Czech Republic
1997 Whitechapel Art Gallery, London, UK
Selected Group Exhibitions
2006 Printemps de Septembre 2006, Toulouse, France
2004 Skulptur Triennale, Frankfurt am Main, Germany
2003 Sweetly the Air Flew Overhead, The Damien B. Art Center, Miami, USA
2002 Material Matters, Norrköpings Museum, Norrköping, Sweden
1998 Turner Prize Shortlist Show, Tate Gallery, London, UK
1995 Féminin-Masculin, Centre Georges Pompidou, Paris, France
[gallery:671]